Like her or not you have to admire the impact that Enid Blyton has had on the world of children's literature. I'm sure many writers of today will have come across her books in their younger years and I bet quite a few have been inspired enough by her stories to go write a tale or two for themselves, I know I have…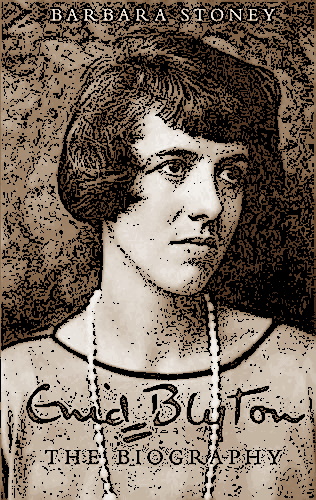 Barbara Stoney did a fantastic job with her biography of the British children's writer. The book covers pretty much everything about her life in a most sincere and straightforward way.
When I think back to the many books that I read as a child, Enid Blyton's name always comes to the forefront of my mind. The list seems endless: a stunning selection of fantastic and imaginative fun tales, stocked with mystery and suspense, adventure and make-believe, all spun magically to perfection. The pleasures her stories have brought and continue to bring to children around the globe are a lasting legacy. The kids of the past, of now and of generations to come, have, do and will continue to read her work.
I've read that Enid Blyton was a complex woman, showed behavioural patterns of pretence and denial, was controlling, childlike and seldom easy to please but she also had a very strong work ethic, was extremely driven and has remained the most successful (from a sales point of view) children's writer from the last and present century.
Her parents, Thomas Carey Blyton (a cutlery salesman) and Teresa Mary Blyton (nee Harrison) were from my hometown of Sheffield, England.
Enid's father was a great inspiration in her life, giving Enid her immense love of nature and books. He would often tell her stories of his adventures growing up in Sheffield. Thomas had a huge thirst for knowledge, he was an avid naturalist and keen reader who adored languages, art and music.
Enid's mother never shared Thomas's love of leisure pursuits, she much preferred to throw herself into the household duties. A keen ruler she did not approve of Enid being sat around partaking in the reading of books and gallivanting off on excursions with her father. Teresa strongly believed that Enid should have been turning her hand to food preparation and helping with chores around the house. She also thought Enid should be preparing for marriage and a family; like other girls. They clashed, it was a battle of wills.
The conflict also grew between Thomas and his wife resulting in him leaving the family home to settle for love with another.
Enid's family were very good at keeping up appearances. Divorce was out of the question in those times, a marital breakdown would have been scandalous and not even Enid's schoolmates would have known that her father had gone as he still visited now and again to take her out on trips and sent money home regularly for them all. Though the money enabled the family to enjoy life's pleasures, Enid suffered a big loss when her father was no longer around. Thomas was however adamant that she was to have a good education (Enid was schooled in the hope that one day she would become a great musician).
Life became unbearable without her father in the house and as a result Enid became more and more distant from the rest of the family. The relationship with her mother eventually broke down.
Enid decided a musical career was not going to be for her and so began her Froebel teacher training when she was 19. This way she could keep on writing and it enabled her to learn more about children and how to write for them.
Her first published poem in 1917 entitled 'Have You' is beautiful but at the same time sad. The 1922 book of verse 'Child Whispers' introduced the public to her work for the very first time.
From then on Enid's star has outshined many, a shrewd businesswoman for her time, a prolific writer of over 750 books. Enid also wrote a column for 'Teachers World' for nearly 23 years and spent 26 years as editor for the 'Sunny Stories' magazine, somehow managing to find time for the running of her own magazine and the sorting of all her financial affairs with her limited company Darrel Waters Ltd.
Enid may have left us 43 years ago but her work's still going strong in every bookshop and library in town. She sells 6 to 7 million copies in over 40 languages around the world. I think this is due to her amazing ability to relate to children (even though it's known she didn't relate quite so well to her own).
Enid Blyton has made an outstanding contribution to the world of children's literacy and I wholeheartedly salute her; because without her imprint this world would be a much poorer place.
Copyright © D.M.Brighton